Scarborough 'should call time' on 24-hour drinking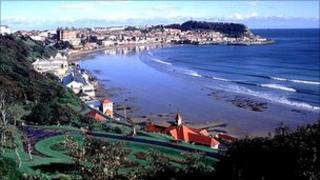 Police and business leaders in Scarborough say it is time to "call time" on 24-hour drinking in the town.
Officers say late licences have caused too many alcohol-related problems in the town.
The police want the government to enact a clause in the Licensing Act which allows local councils to close premises earlier.
The Scarborough and Whitby MP, Robert Goodwill, is writing to Home Secretary Theresa May asking for her support.
Officials in the town say late evening drinking is putting increased pressure on the police and the local hospital.
Barry Graham, crime reduction and anti-social behaviour coordinator for Scarborough Borough Council, said: "Police have to keep officers on duty far later into the night than they've ever had to do. You've also got problems at accident and emergency where you have injuries arriving through the night mainly down to people drinking too much."
Figures from the Scarborough and North East Yorkshire Healthcare NHS Trust showed that last year 3,000 people who turned up at Accident and Emergency in Scarborough had problems related directly to excessive alcohol consumption.
Conservative MP Mr Goodwill said enacting the provisions in the Licensing Act could also help revive the early evening economy in Scarborough.
He said: "People are getting tanked up at home and then not heading to the bars and clubs after 11 in the evening. We want to try and get back to how it used to be when you went to the pub at 10 in the evening and people were there."
Paul Murray, a licensee and chairman of the Scarborough Pub Watch Scheme, said: "There isn't anyone involved in the night-time economy who wouldn't want to see things go back to how they used to be."
He added that he would support pubs closing at midnight at weekends, 23:00 during the week and nightclubs being closed at 03:00 on Friday and Saturday and at 02:00 during the rest of the week.