Dry stone wall maze planned for North York Moors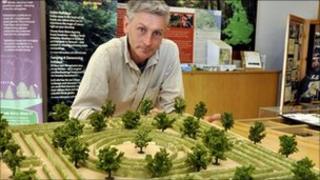 There are plans to create a dry stone wall maze on the North York Moors.
The Forestry Commission is working with craftsman Mark Ellis, who originally thought of the idea 12 years ago.
Dry stone walling involves creating structures without using any mortar to bind the stones together.
The maze would be 6ft high and cover 861 sq ft (80 sq m). It would take three years to build in Dalby Forest near Pickering.
Dry stone is commonly used in agricultural buildings across Yorkshire and is believed to date back to the Neolithic period (7000 to 1700 BC).
Mr Ellis first learned how to do it after returning to his native North Yorkshire 19 years ago.
'Huge undertaking'
He had given up a career in advertising and design in search of a better quality of life.
Mr Ellis, 47, said: "The maze is a huge undertaking. It's been buzzing around my head for 12 years, although I didn't have Dalby in mind when I came up with the idea.
"As it turns out it's a great place for a stone maze. Lurking unseen among the trees, it adds yet another layer of mystery."
To keep people guessing, the layout will be altered over time, keeping the puzzle fresh.
Mr Ellis said: "Lifting and shaping 4,000 tonnes of stones will be a heck of a slog, but a great attraction in itself for passing visitors. It will be a showcase for the ancient art of dry stone walling."
Petra Young, from the Forestry Commission, said they were really keen to see the dream become a reality.
Ms Young said: "The maze combines fun, craftsmanship and art and it will also help train apprentices who are the dry stone wallers of the future."
The project will cost £600,000 and the commission is launching a fundraising appeal.