York car and coach park sale approved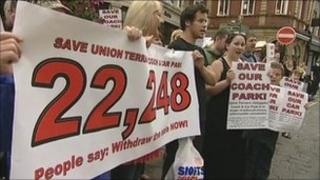 Controversial plans for the sale of a coach and car park in York have been approved.
Labour councillors defeated a Liberal Democrat motion to withdraw from the sale of the Union Terrace site to the nearby University of York St John.
Five proposals for sale, all of which retain some parking on the site, will now go out to public consultation.
More than 20,000 people have signed a petition opposing the sale, saying it would badly affect local businesses.
Initially the City of York Council intended to sell the whole of the Union Terrace site to the nearby University of York St John, which wants to expand.
This prompted numerous objections from local businesses who fear the sale would reduce footfall to their premises.
'Devastating impact'
Trevor Fenwick, who represents traders on Gillygate in York, said they were disappointed the council had decided to proceed with the sale.
The traders said the move could have a "devastating impact" on their trade.
Mr Fenwick added: "We were hoping councillors would have listened to what we were saying.
"We had 22,246 people sign our petition against the sale, they have just ignored us."
Council leader James Alexander said councillors had listened, which was why they now proposed five new options for a partial sale of the site.
He added that the expansion of the university would create jobs that were vital for the city.
The consultation will run until 16 September.