Harrogate cricket club: Tim Bresnan opens new pavilion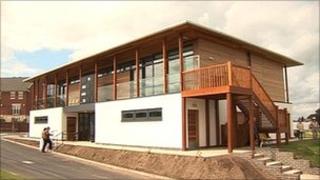 England and Yorkshire bowler Tim Bresnan has officially opened a new £825,000 pavilion at Harrogate Cricket Club.
The previous 112-year-old pavilion was extensively damaged in a fire at the St George's Road site three years ago.
The club was awarded a £500,000 grant towards the development from the England and Wales Cricket Board (ECB) in partnership with Sport England.
Members of Harrogate Cricket Club raised the rest of the funding.
The club will become a base for the Yorkshire Women's team and hopes to host international women's cricket in the future.
ECB national funding and facilities manager Bruce Cruse said it would "give a boost to grassroots cricket in the area and to the development of women's and girls' cricket in Yorkshire".
The pavilion will provide players and officials with separate changing facilities, refreshment areas and will offer spectators views over both pitches from the first floor of the new development
Club chairman Steven Culleton said: "Since the fire the teams had to change in portable cabins, but now players can enjoy the new pavilion with up-to-date facilities that are accessible to all.
"The large function room, kitchen and meeting rooms are fantastic facilities for the teams and spectators on match days and are available for community use at other times."