Bats force North Yorkshire church to suspend services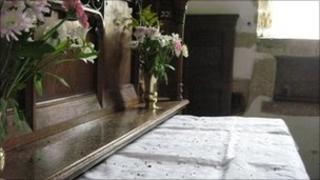 A North Yorkshire church has been forced to suspend services because of damage being caused by bats.
Bats have been roosting in the roof of St Hilda's Church at Ellerburn, near Pickering, for a decade.
The congregation said the bats had littered the church with droppings, making it impossible for services to take place.
Bats are protected by law and so far the church has failed to get a licence to remove them from the building.
There are numerous roosts within the 11th Century church roof, but the main damage is caused by the bats accessing their roosts through the internal areas of the church.
Liz Cowley, church warden, said: "The walls and floors are covered with bat droppings. We have tried to keep the church clean but we have lost the battle. Services have had to be cancelled and we cannot realistically open the church."
The church has been in negotiations with Natural England, the government agency responsible for policing the conservation of bats, for many years to obtain a licence to exclude the bats from the inside of the building.
'Huge cost'
The congregation raised £10,000 to build new roosts nearby but attempts to lure the bats away from the church have failed.
Natural England have said the church cannot block access points to the roof until the agency is satisfied the bats will make their homes in the new roosts.
Ashley Burgess, a representative of the Parochial Church Council, said: "The financial cost to us has been huge. Nobody wants to sit in a bat-stained church and our congregation has dwindled as a result.
"We believe in protecting wildlife but surely our human congregation have some rights as well as the bats."
St Hilda's is applying again for a licence to exclude the bats from the building.