Scarborough B&B owner Williams jailed for spying on guests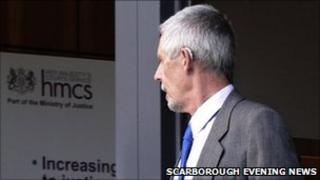 The owner of a Scarborough bed-and-breakfast who used peepholes to spy on guests in their rooms, has been jailed.
Paul Williams, 60, who runs the Sandsea guest house in Devonshire Drive, was jailed for 18 weeks at Scarborough Magistrates' Court.
Williams, who admitted voyeurism and observing a private act for sexual gratification, also made recordings of couples in their rooms.
Magistrates said the offences were so serious only jail could be justified.
The court was told in May about three young couples who had stayed at the guest house.
On the first night they returned to their rooms one of the guests, a 16-year-old girl, noticed a piece of paper moving on a door to her room.
After investigating, her boyfriend found a hole behind it.
He then heard movement in the corridor outside and discovered Williams who was wearing just a dressing gown.
The court heard the girl's friends also found spy holes in their doors.
Magistrates were told he had put in the holes a couple of years previously because some guests were leaving without paying.
He then told police he saw it as an opportunity to spy on couples having sex and record them.
Williams was also placed on the sex offenders register.