Energy minister approves Drax biomass plans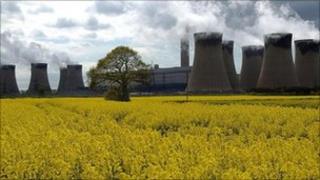 Two biomass power stations which would meet the needs of more than one million homes have gained government approval.
Power producer Drax wants to build the plants at its site in Selby, North Yorkshire, and at South Killingholme, near Immingham, North Lincolnshire.
Energy Minister Charles Hendry said the plants would reduce the UK's carbon dioxide emissions.
During construction, both developments will employ about 600 people and have workforces of 150 when operational.
Mr Hendry said: "It is vital that we get investment in new power stations up and down the country to ensure secure energy supplies for people's homes and businesses.
"I am very pleased to give the go-ahead for these two new biomass power stations in Yorkshire and North Lincolnshire.
"They will not only enhance our security of supply, but provide low-carbon electricity that reduces our carbon dioxide emissions."
However, last year Drax said its final decision on whether to build the plants will depend on the outcome of a forthcoming review into government support for biomass developments.
A Drax spokesman said: "Section 36 consent is a necessary part of the development process for any large power stations. The minister's announcement confirms that part of the process is now complete.
"However, any progress with the investment will be dependent on the government's final decision on the future support levels under the Renewables Obligation."