Beacon Festival abandoned after heavy flooding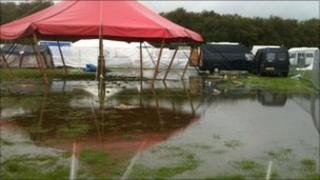 A four-day music festival in the Yorkshire Dales has been cancelled because of flooding.
Organisers said they were "disappointed" to call it off but had no choice after a nearby river burst its banks following heavy rain.
Almost 3,000 music fans were expected to attend the Beacons Festival at Heslaker Farm, near Skipton.
The festival director described the cancellations as a "nightmare" but said ticket prices would be refunded.
The first Beacons Festival was due to feature artists such as Frankie & The Hearstrings, Tom Vek, Jamie XX and Willy Nelson.
Ash Kollakowski, festival director, said: "We are devastated, I've been working on this for a year and this is just a nightmare.
"The campsite and the one access road are completely flooded."
Mr Kollakowski said his main concern had been a health and safety one.
He added: "Flood water was approaching the main arena where the electricity generators are located.
"In the end our health and safety advisors said we just couldn't go ahead."