Selby civic centre contents to be sold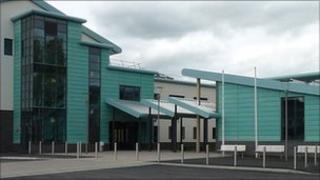 Hundreds of items owned by a North Yorkshire council are to be sold in an online auction.
Selby District Council is selling off the contents of the old civic centre after staff moved to new premises at the beginning of August.
Items for sale include a pair of flagpoles and the chairman of the council's seat.
Auction lots can be viewed by the public on 17 August with the auction taking place the following day.
Council staff moved into new offices, at the New War Memorial Hospital and Civic Centre complex on Doncaster Road, on 1 August.
The move means a great number of objects from the old building, which will be demolished, are surplus to requirements.
Dave Maycock, Selby District Council's property services manager, said: "The move left us with a lot of furniture and equipment that was either not needed at the new site or just would not suit the new arrangements in the new building."
'Disappointingly modest'
The council requested that items for the auction, which is being conducted by CJM Asset Management, were displayed at the old civic centre on Portholme Road.
Paul Cooper, CJM director, said: "We're auctioning off a huge amount of furniture that has come from the offices, the committee rooms and the council chamber.
"It includes the press table and the chairman of the council's seat, which I have to say was disappointingly modest."
One of the most unusual lots is the centre's vault door, a 6ft (1.8m) high solid door with a cage door behind it.
Mr Cooper said: "I don't know what that will make but bidders might like to factor into their reckoning that the buyer has to remove the doors themselves."