North Yorkshire businesses 'hit by A1 roadworks'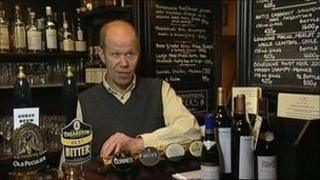 Business owners in North Yorkshire say they are losing thousands of pounds a month because of major roadworks on the nearby A1.
Pubs and hotels have seen turnover drop since work started on the 13-mile stretch of the road between Dishforth and Leeming in 2009.
Car Les, owner of Leeming Bar Services, said he was losing £10,000 a week.
The Highways Agency said the road did not meet standards and it had tried to minimise disruption to businesses.
A 50mph speed limit is in place along the stretch of the road, which is being widened into a three-lane motorway.
'Difficult to survive'
Work on the £318m upgrade project began in March and is expected to be completed by Spring 2012.
Mr Les said the situation was "very, very severe".
"I think anyone in business will tell you roadworks and business do not go well together."
Edward Boynton, owner of the Nag's Head in Pickhill, said the roadworks had impacted his business by about £10,000 a month.
"I will find it very difficult to survive unless I get some good signage.
"When you've got a road impact and you're a destination pub or a destination restaurant it's very hard when you can't find the destination."