Scarborough teenage drinkers targeted by new scheme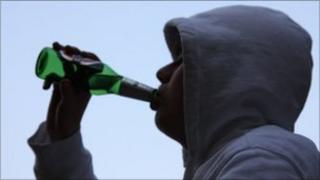 Young drinkers are being targeted by a new project in Scarborough aimed at cutting their alcohol consumption.
After Math aims to show young people the consequences of excessive drinking.
Organisers say they want to reduce the number of incidents of alcohol-related anti-social behaviour, assaults and hospital admissions.
Teenagers in Scarborough drink more alcohol than in any other parts of North Yorkshire, according to local authority figures.
Sandra Rees, Scarborough Borough Council's community health and safeguarding officer, said: "There is an increasing number of young people that are drinking and getting drunk leaving themselves vulnerable.
"The After Math programme has been developed to do some preventative work with these young people from across the borough."
Police, concerned parents and local health agencies can refer youngsters onto the scheme if they believe they might benefit.
'Shock tactics'
Prison and police officers, doctors and magistrates all give out often graphic messages about the risks of ending up in jail, in court or in hospital through drink.
Local magistrate, Kate Warnock-Smith, said: "You could call it shock tactics but it is just the reality that they are going to come hard up against if they continue excessive drinking.
"Young people need to realise they will end up here if they don't change their habits now."
David McNeil, 16, was caught drinking on Scarborough beach by police officers who referred him to the project.
He said: "It is going to make me think twice about drinking because of the effects of what can happen and what will happen if you drink. This will definitely make me think before drinking again."