Disrepair fears over former York Terry's factory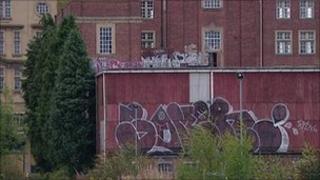 Delays in the redevelopment of the former Terry's chocolate factory in York could see the building fall into disrepair, it is feared.
It was sold six years ago and in 2010 approval was given for a multimillion-pound scheme to build homes, shops, a bar, restaurant and medical centre.
But the site remains empty and has been attacked by vandals.
Developer Grantside said legal issues were being dealt with and work would start "at the earliest opportunity".
Kraft Foods closed the factory in September 2005, bringing to an end more than a century of chocolate making in York by Terry's, which began production in 1886.
Concerns about the state of the site have been raised as the start of Ebor Festival approaches at the nearby York Racecourse.
'Bustling picture'
Sandy Fraser, Labour councillor for Micklegate, said: "It's important that we don't see the site deteriorate.
"Myself and two other councillors have always been concerned to see this site developed.
"It's an important site, it has listed buildings on the site and it's an important site for York.
"It does nobody, the council, the developers or most importantly local residents in the city any good to see it fall into disrepair."
Mr Fraser added: "Ebor starts later this week with many visitors coming to York and we'd like to see the site fully developed so it presents a bustling picture of York."
A spokesman for Grantside said: "A development of this size and complexity generates a substantial amount of documentation and involves a significant number of people across many organisations and we are pleased to be able to report good progress being made despite difficult market conditions."
The company said it had more than 60 planning conditions to satisfy, relating to issues such as renewable energy and tree protection, and documents associated with those matters were being drafted.
It said initial work on the site would be demolition of non-listed buildings and site clearance. A start date has not been set.