York's Ebor meeting pulls in the crowds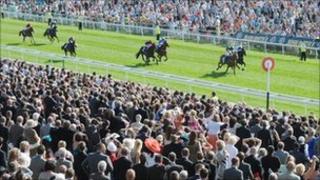 More than 90,000 people are expected in York for the annual four-day Ebor meeting which started on Wednesday.
The meeting, first held in 1843, is one of the richest in the north of England and offers total prize money of £2.7m.
Research by Sheffield Hallam University suggested earlier this year that York racecourse contributes almost £60m to the regional economy.
The festival is usually held mid-week but organisers have moved it this year to include a Saturday.
William Derby, chief executive of York racecourse, said: "What is behind the move is that most people work Monday to Friday and our big festivals, the Dante in May and the Ebor in August, were both mid-week."
Mr Derby said they wanted to engage a new generation of racegoers.
"This is a huge event, that goes out across the world and we hope people will be able to enjoy Europe's richest handicap on a Saturday for the first time," he added.
The Sheffield Hallam University report said of the £60m contributed by York racecourse to the economy almost £17m was in off-course spending.
Gary Verity, the chief executive of the regional tourism agency Welcome to Yorkshire, said: "That money is going into shops, restaurants, hairdressers, bed and breakfasts, taxis and hotels. Racing is really doing its bit for Yorkshire's economy."