York street performers say they feel vulnerable to attack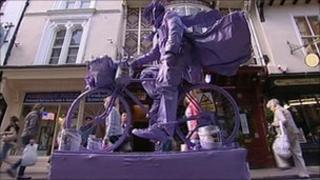 Street performers in York say they want reassurances about their safety after one of them was attacked.
It comes after an artist known as Purpleman was pushed from his bike while performing on Saturday .
Councillors say they are keen to ensure the safety of street entertainers in York.
North Yorkshire Police said officers would be willing to meet with performers to discuss their concerns.
"Purpleman", who declined to give his real name, is just one of a number of licensed performers who entertain tourists and residents in the city centre.
Following the attack he has now installed a CCTV camera in his hat for his personal protection.
'Visible target'
Another performer, who calls himself Dick Turpin, said he had also faced intimidation and abuse.
He said: "You are a visible target. You'll see a gang of people and you know you have to get off the street. It's getting worse."
He said entertainers felt particularly vulnerable and wanted a meeting with the council and the police to discuss ways of increasing their safety.
Councillor Sandy Fraser, cabinet member for community safety, said: "We want to keep them safe and we're happy to discuss with buskers as a group as to how we can retain the very real contribution they make to the experience of the city both for residents and for visitors."
North Yorkshire Police said: "Officers from the local Safer Neighbourhood Team will be happy to meet with the street performers and discuss their issues."