Racegoers 'warned' over behaviour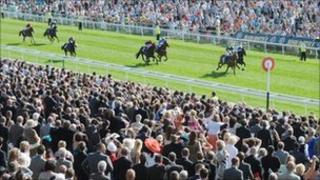 Police in York have warned people attending the Ebor race meeting that anti-social behaviour fuelled by alcohol will not be tolerated.
The officer leading the policing operation said trouble-makers would be told to "get out of town".
York Racecourse said it worked closely with the police to ensure the four-day festival went smoothly.
North Yorkshire Police said it would deploy extra officers on the 19 and 20 August.
For the first time the meeting, which began on 17 August, will finish on a Saturday.
Average attendances at York racecourse are usually around 20,000, but Saturday meetings can attract double that figure.
Residents have complained about crowds of intoxicated people descending on the city after racing has finished.
'Horrendous'
One resident who did not wish to give her name, said: "Friday night after a race meeting is horrendous, people urinating in the street and banging on your door at all hours. There is just nothing you can do, you daren't tackle anyone."
Supt Lisa Winward, police commander for the festival, said officers worked closely with the racecourse and would be "highly visible" in the city centre on the Friday and Saturday evenings.
She added they would use preventative legislation to tell potential trouble-makers to leave the city.
"If we spot people early in the evening who may have had too much to drink and we think they may cause disorder we can ask them to leave an area and if they return in a specified time we can and will arrest them," Supt Winward said.
York racecourse said it had sympathy with residents, but could not be held responsible for the behaviour of a few individuals after they left the course.