Ebor festival: Number of racegoers rises by more then 12,000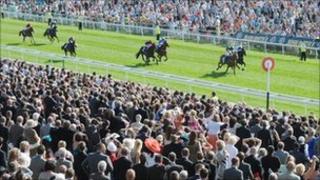 The four-day Ebor Festival attracted 12,673 more racegoers than the previous year, York Racecourse has said.
Organisers said they were "delighted" that 93,316 people attended the meeting, which ended on Saturday.
Ladies Day, which took place on Thursday, was the best attended day, with more than 28,000 people heading to the course.
The meeting, first held in 1843, is one of the richest in the north of England and offers total prize money of £2.7m.
The festival is usually held mid-week but organisers moved it to include a Saturday for the first time.
Chief Executive and Clerk of the Course, William Derby, said: "The fact that we have staged a Festival Saturday race day in August which has attracted so much interest and engagement both on the racecourse and further appeal is good for both York and racing.
"We have been delighted that so many racegoers have been able to enjoy the Welcome To Yorkshire Ebor Festival.
"We have been blessed with some wonderful racing performances, great atmosphere and have been lucky with the weather."