Resurfacing work starts on Yorkshire's highest road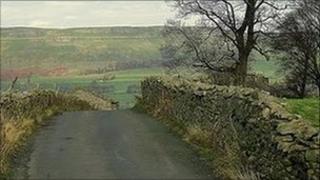 Yorkshire's highest road, which connects remote communities in the Dales, is to be temporarily closed while resurfacing work is carried out.
Beggarmans Road, linking Wensleydale to Langstrothdale, will be shut during the day from Wednesday for three days.
The road rises from Gayle in Upper Wensleydale to the summit of Fleet Moss - 589m (2,000ft) above sea level - before dropping to Langstrothdale.
The council said its exposure meant it was vulnerable to severe weather.
North Yorkshire County Councillor John Blackie, divisional member for the Upper Dales, said: "It is hugely important as a lifeline to the deeply and rural communities it connects that the road between Upper Wensleydale and Upper Wharfedale is kept in good condition, especially given the hostile weather it suffers in the winter."