Future of Harrogate mental health unit uncertain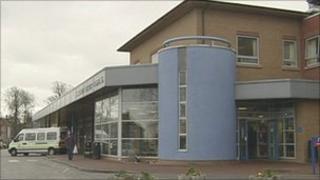 The future of a day care centre for adults with mental health problems in Harrogate remains uncertain.
The Hawthorn Day Unit, based at Harrogate Hospital, was closed temporarily in 2010.
The Tees, Esk and Wear Valleys Foundation Trust (TEWV) said no decision on the future of the unit had been made.
Former patients said the service was a lifeline for vulnerable people and should reopen.
Mick Robinson, who attended the day unit after spending three months in hospital suffering from depression, said it had "helped me get back on track".
He said: "I am really concerned about vulnerable people who might need it now. You used to have the day unit for when things got really bad."
'Big void'
The NHS North Yorkshire and York Primary Care Trust closed the specialist unit because of staff shortages in July 2010.
Responsibility for the provision of mental health services in Harrogate was passed to the TEWV Foundation Trust in January.
Another former patient of the day unit, who wished to remain anonymous, said: "The unit basically saved my life. If we have mental health issues there is nowhere now we can go to when we are having a crisis apart from casualty. It has left a big void."
In a statement, the Tees, Esk and Wear Valleys Foundation Trust said it was examining the needs of the local population before making any decision on the future of the Hawthorn Day Unit.
It said: "Over the coming months we will spend time talking with service users, carers and other organisations about how we can continue to improve mental health services in Harrogate."