Robber Mark Stone escapes custody in Northallerton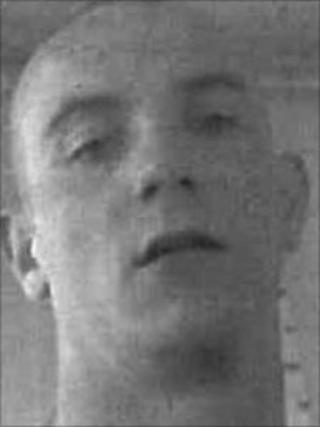 A convicted robber has escaped from custody in North Yorkshire.
Mark Andrew Stone was on day release from Northallerton Prison and carrying out voluntary work in the town's cemetery when he escaped on Tuesday.
A police spokesman said Stone, 25, was not believed to be dangerous but urged people not to approach him. It is thought he may go to Sheffield.
Stone is described as white, 6ft tall with a medium build and a shaved head. He left his boots at the cemetery.
When he was last seen he was wearing a grey t-shirt, black cardigan and black tracksuit bottoms. It is not known what he was wearing on his feet.
Insp Dave Murray, of North Yorkshire Police, said: "Although we do not believe that Stone poses a danger to the public, I would advise that people do not approach him and contact the police as a matter of urgency.
"I would like to speak to anyone who may have seen a man matching his description, especially someone not wearing shoes."
Mr Murray urged anyone who sees Stone to contact the force or Crimestoppers.
A Prison Service spokesman said: "Any prisoner who breaches their licence will face disciplinary procedures or criminal prosecution."