North Yorkshire Police chief denied contract extension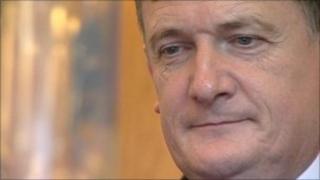 The chief constable of North Yorkshire Police will not have his contract extended when it expires next May.
The county's police authority made the decision during a meeting on Thursday.
Mr Maxwell was given a final written warning earlier this year after he admitted gross misconduct in helping a relative during a recruitment drive.
The authority said the reasons for its decision would not be released. North Yorkshire Police said Mr Maxwell would not comment.
In a statement, the police authority said: "The authority has every confidence that Chief Constable Maxwell will continue to lead North Yorkshire Police well until May next year when his current fixed term appointment expires.
"The detailed reasons for this decision and other matters relating to it are of a private and personal nature and therefore [the authority] will make no further public comment on the matter."
'Put behind me'
The inquiry into the misconduct claims against Mr Maxwell cost the taxpayer £200,000.
The investigation found that he helped a relative gain unfair advantage in a police recruitment drive for 60 jobs.
Speaking publicly after the investigation, Mr Maxwell said it had been a "traumatic period" in his life.
"It's a period which thankfully has come to an end and realistically it's one of those things that it's time to be put behind me and for me to move on and do the job I love, which is being chief constable of North Yorkshire Police."
The Labour leader of York City Council, James Alexander, and the Conservative MP for Skipton and Ripon, Julian Smith, have previously called for Mr Maxwell to resign.
In July a motion of no confidence in the chief constable was rejected by members of the Conservative-led county council. The motion was put forward by Liberal Democrat councillor Geoff Webber.