New tea brews Yorkshire trademark row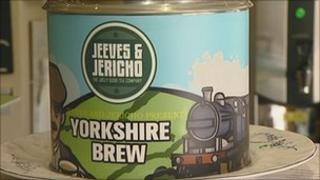 The owners of the Yorkshire Tea brand are threatening legal action against the makers of a new tea which uses the Yorkshire name.
Taylors of Harrogate is demanding the Oxford-based maker of Yorkshire Brew removes its product from shop shelves.
The company claims it has trademark rights to use the county name in relation to tea products.
Jeeves & Jericho, which makes Yorkshire Brew, said it was "upset" and "bemused" by the threat of legal action.
In a statement, Taylors of Harrogate said: "As a family business we are not experts on trademarks but our advisors tell us we must protect our name."
Dominic Boyett, director of Jeeves & Jericho, said he was seeking legal advice on the matter.
He said: "I was a bit upset by it first of all but then I was a bit bemused about it because I couldn't understand how you could actually trademark the word Yorkshire."
His co-director Daniella Franzese-Boyett said: "We use the name 'Oxford' and we use the name 'Scottish' so we feel that using the name Yorkshire is just an area of the country, not treading on anyone's toes."