Man injured after falling 45ft from Ingleton waterfall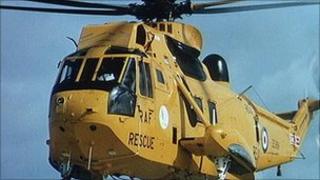 A 54-year-old man was taken to hospital by RAF helicopter after falling about 45ft (14m) from a waterfall in North Yorkshire.
The man, from East Yorkshire, suffered serious head and leg injuries after losing his footing at Beezley Falls in Ingleton on Sunday.
Rescuers believe he was "canyoning", an activity involving swimming and scrambling down rocky gorges.
The man was winched through trees from the River Doe.
He was then flown to the Royal Lancaster Infirmary.
'Nasty injury'
Twenty-one members of the Cave Rescue Organisation (CRO) attended the accident scene, together with four fire and rescue crews from across North Yorkshire and one from Kendal in Cumbria.
In addition to the Sea King helicopter from RAF Leconfield, the Yorkshire Air Ambulance also attended but was not needed.
Ray Lonsdale, CRO duty co-ordinator, said it was a difficult rescue.
"The Yorkshire Air Ambulance doctor and our team doctor had to get the victim onto a stretcher while still in the water," he said.
"They had to deal with his open leg fracture, which is a nasty injury at the best of times, never mind when in a white water situation."