Shooting company fined over damage to Farndale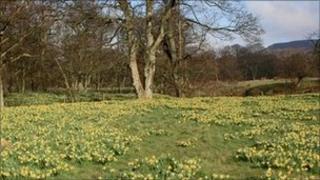 A field sports company has been fined £40,000 after damaging part of the North York Moors National Park.
The prosecution, brought by Natural England, related to pheasant shooting in Farndale.
York Sports Ltd and its director, Michael Wood, admitted a total of seven offences at separate court hearings last year.
They failed in a court challenge over the extent of the damage caused and were each fined £20,000.
Farndale on the North York Moors, is a Site of Special Scientific Interest (SSSI), and is well-known for its wild daffodils.
Between 2006 and 2009, York Sports Ltd constructed a car park and erected bridges and feeding devices.
No permission
The company also changed the game management of the area by attracting pheasants onto the site.
This was all done without the necessary permissions from Natural England.
The charges related to rules designed to protect SSSIs, under the Wildlife and Countryside Act.
Judge Stephen Ashurst, at York Crown Court, found that they had significantly increased the number of pheasants reared for shooting and that increase had contributed to the reduction in vegetation.
Janette Ward, Natural England's regulation director, said: "The sheer number of pheasants released was unsustainable and so damaging that a prosecution had to be brought.
"We hope the company will now work with us to manage this special woodland appropriately in the future."
York Sport and Michael Wood were also ordered to pay costs of £125,000.