York university scholarship tribute to 9/11 victim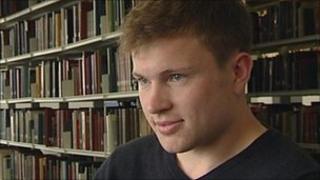 The twin of a man who died in the 9/11 attacks is keeping his brother's memory alive by funding scholarships at the university where they both studied.
Nigel Thompson, from Sheffield, was working as a broker on the 105th floor at the World Trade Centre when the north tower collapsed.
Mr Thompson's brother Neal is offering £3,000 bursaries to economics students at the University of York.
A memorial tree for Nigel Thompson has also been planted at the university.
Current bursary recipient Alec Feakes wants to join the Royal Marines after graduating.
Mr Feakes said: "I think one of the main things that Neal wanted out of the scholarship, and for the donor, is that he wanted an enduring memory of his brother and really wanted to give it to someone who would make the most out of the money and who had ambitions and prospects for the future."
He said it meant a lot to him that as a Royal Marine he may end up working to prevent terror attacks as he would be able to "give something back to the scholarship".
Mary Haworth, the university's director of development, said the twins were "very focused on their studies", "worked extremely hard" during their time in York and had a "very close relationship".
She said the university was "extremely grateful" to Neal Thompson for setting up the fund.
"We are only sad that it happened under such tragic circumstances."