Harrogate Stray cycling ban ends after 150 years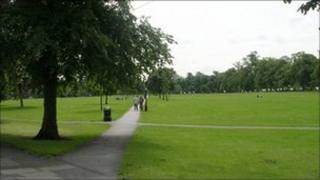 A 150-year ban on cycling on common land in Harrogate has ended.
It has taken two years to overturn the 19th Century ban on cycling on the 200-acre (80 hectares) Stray, which is regulated by Act of Parliament and a number of local bylaws.
The Stray Defence Association said land was being "whittled" away.
Harrogate Borough Council said only a small part of the Stray would be affected by the decision and work to widen footpaths would take 10 weeks.
The common land was first protected in the 18th Century for the use of the people of Harrogate.
Councillors in the town voted in 2009 to permit cycling, but it has taken two years of negotiations with the government to enable the change in the law.
'Overwhelming' support
The Stray Defence Association has long opposed allowing cycling because of concerns that some footpaths would be widened to create cycle routes.
Judy D'Arcy Thompson, from the organisation, said: "Is this just going to be cycling so people can get from A to B or are we going to suddenly find it turned into a huge cycle track?
"Land is being whittled away, changing the nature of the Stray, which belongs to the people of Harrogate."
Malcolm Margolis, from Harrogate cycling group Wheel Easy, welcomed the decision.
He said: "The paths we are talking about affect a tiny part of the Stray, probably less than 1%.
"It is just a few paths on the southern and eastern perimeter of the Stray."
Harrogate Borough Council said there was "overwhelming" public support for cycling on the Stray.