York nurseries: Staff 'deeply upset' at welfare claims.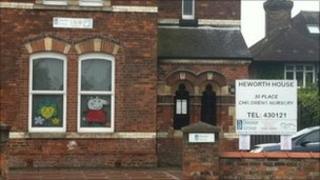 The manager of nurseries in York at the centre of allegations over care and welfare says their reputations will be "restored" once an inquiry is complete.
Six employees at privately-run Little Joes and Heworth House nurseries in York have been arrested and bailed by investigating officers.
In a letter to parents, the nurseries said staff were "deeply upset at the current situation".
A joint police, Ofsted and council inquiry was started last month.
The investigators have stressed that there was no suggestion of sexual abuse and the inquiry relates to the way in which the nurseries are run, the quality of care and the welfare of the children who attend.
Both nurseries have remained open as the inquiry continues.
Some parents of children had previously expressed anger over the level of information provided.
Details 'unknown'
The letter, sent out by area manager Lynne Jennings, reiterated the nurseries were complying "fully" with the investigation.
It reads: "Unfortunately, some allegations have been made against a number of our staff concerning the quality of care and welfare of the children.
"We have not been told any specific detail about these allegations, as the process of investigation prevents us knowing any detail at this stage, although it is our understanding that the allegations are not of a sexual nature.
"That said, the situation is that the allegations have been made to outside bodies and they as a matter of course must look into them as thoroughly and as sensitively as possible."
The letter said the nurseries were confident their "reputation will be restored once the process has taken its course".
It continued: "For those of you that are supporting us and standing by us, we are very grateful.
"For those of you that are taking a step backwards to consider the situation, we would say we fully understand. It is entirely a personal choice."