Work starts on York's chocolate attraction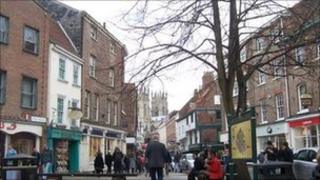 Construction work has started on a £2m chocolate-themed visitor attraction in the heart of York.
The Sweet History of York will tell the story of the city's long-standing links to confectionery manufacturing.
The attraction is due to open next spring in King's Square at one end of The Shambles.
The company leading the project, Continuum, said it would take people on an "interactive journey through York's sweet story".
York's association with the production of confectionery dates back more than two centuries.
The city was home to two of the biggest British names in chocolate, Rowntree Mackintosh and Terry's.
Swiss confectionery firm Nestle, which acquired Rowntree in the 1980s, still has a major manufacturing facility in the city.
Juliana Delaney, chief executive of Continuum, said: "York has had chocolate and confectionery at its heart for over 150 years.
"This is a tale as important as any to that of York and the UK's industrial and cultural heritage, yet it remains untold until now."
As the company prepare for the opening of the attraction they are inviting members of the public to get in touch and share their memories of confectionery in the city.
"We know that there are lots of stories to be told and would like to hear from anyone who would like to share their memories," said Ms Delaney.