Appeal for identity of explicit letter sender in York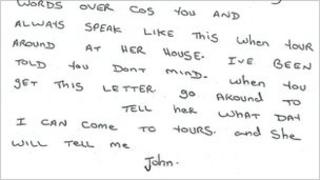 Police in York are trying to trace a person who has been sending explicit and obscene letters to people in a city suburb.
Nine handwritten letters, all signed "John", have been delivered to homes in the Foxwood area of Acomb since January.
All the letters refer to a 30-year-old woman who lives locally.
A number of the letters had included hair and toenail clippings.
Some of the letters have been hand delivered, whilst others have been posted. In one case, the note was taped to the outside of a living room window.
Two other letters have been taped to a bus shelter and a local road sign.
'Very graphic'
PC Vicky Fickling said: "These letters are very upsetting.
"One of them was very graphic and it was sent to a 75-year-old lady with anxiety, who was very upset."
The police are now appealing for residents to help identify the sender through the handwriting.
PC Fickling said: "As part of the inquiry to identify the offender, we will be delivering leaflets to every home in the area.
"I also ask that local residents take some time to look at the handwriting and to contact the police if they recognise it. Even if it does not belong to someone called John, as the sender may be using a false name."