Final part of digital switchover in Yorkshire takes place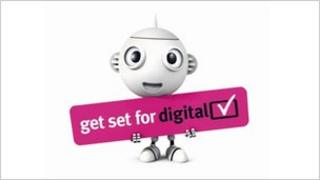 The TV digital switchover was completed across most of Yorkshire early on Wednesday morning as the last analogue signals were turned off.
The Emley Moor transmitter, which serves about four million people, completely switched to digital.
This affected channels BBC One, ITV1, Channel 4 and Channel 5, which were unavailable while the switchover took place.
BBC Two successfully switched to digital on Wednesday 7 September.
All Freeview, BT Vision and Top Up TV viewers will need to retune their equipment to access all the channels available.
The BBC is running a switchover help scheme to those aged 75 or over, are eligible disabled, have lived in a care home for six months or more, or are registered blind or partially sighted.
To find out more people can call the help scheme on 0800 40 87 654.
Anyone wanting further assistance can contact staffed advice points between 10:00 and 16:00 BST on Wednesday and Thursday.
The advice points are at: Harrogate Library, Victoria Avenue,Harrogate; Milton Rooms, Market Place,Malton; Selby Library, Micklegate,Selby; The Devonshire (Wetherspoons), Newmarket Street,Skipton; Millies Cookies, King Square,York.
Parts of North Yorkshire served by the Bilsdale transmitter on the North York Moors will not be switched over until later in 2012. Dates have not yet been fixed.