Protester spends night in 100-year-old Irton tree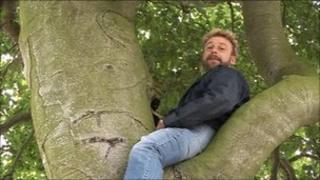 A protester has spent the night up a 100-year-old tree to prevent it from being felled.
Mark Snow climbed the beech tree, at Irton, near Scarborough, on Tuesday morning to prevent contractors from chopping it down.
North Yorkshire County Council obtained a court order to fell it after a resident claimed its roots were damaging drains in 2006.
Scarborough council had previously placed a preservation order on it.
The five-year battle has cost North Yorkshire County Council £225,000 in legal fees.
'Direct action'
Contractors were due to begin work to remove the tree on Tuesday morning when Mr Snow, a joiner from Scarborough, climbed up it.
The council said it would seek legal advice before taking further action.
Mr Snow said he was willing to remain in the tree "for as long as it takes" to save it and has strapped himself to the branches.
He said: "I couldn't see anything else that could be possibly done other than direct action.
"It just seems ridiculous to cut one down that's an established 100-year-old tree that's been here longer than the house next to it and it's got a preservation order on it."
Residents in the village have been supplying Mr Snow with food and drink.
He said: "I've got plenty of ropes up here I just lower carrier bags down and people fill them with goods. [I'm getting] lots of support, it's fantastic."
His father, Peter, said he was proud of his son.
"I was a bit concerned about the health and safety aspect of it but when I've come down to have a look at it, I really am proud of him for what he's doing."