'Goldrush' callers target Selby and Northallerton homes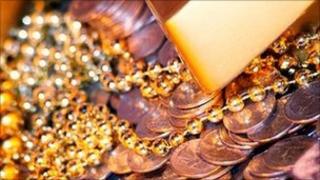 Trading Standards officers in North Yorkshire have warned residents to be on their guard over so-called doorstep "goldrush" callers.
A council spokesman said people had been approached at their homes and asked if they had any gold to sell.
Officials from the Trading Standards team fear residents may be being pressured into selling valuable items below their actual value.
Officers said homes in Northallerton and Selby had been targeted by callers.
Councillor Chris Metcalfe, who is responsible for Trading Standards at the county council, said: "Our advice regarding doorstep traders has always been clear - do not deal with them."
"We are particularly concerned about these traders flouting laws which have been put in place specifically to protect the public and ensure a fair trading environment.
"We are also concerned about these traders taking advantage of those who are experiencing debt problems and who may make rash decisions about selling their valuables.
"At a time when gold prices are at record levels, consumers need to ensure they get the best possible price available to them," he added.
Mr Metcalfe said residents should think very carefully about the risks associated with discussing their valuables with strangers at the door.
"Would you ordinarily discuss the valuables you have in your home with a complete stranger?" he said.