Harrogate Theatre Trust could run Royal Hall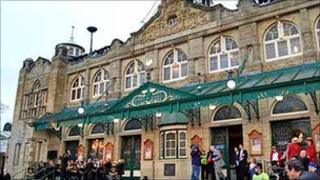 The future of Harrogate's Royal Hall, which cost taxpayers £1,000 a day last year, may have been secured.
Councillors have approved plans to begin negotiations for the Harrogate Theatre Trust to take over the venue.
The Grade II-listed building was reopened by the Prince of Wales in 2008 after an £11m refurbishment, but lost £360,000 in 2010.
The theatre board welcomed the decision and said it hoped negotiations could be concluded soon.
Harrogate Borough Council said earlier this year that the Royal Hall was likely to continue losing money, with a projected loss for 2011/12 of almost £250,000.
Leasing the building to the trust that runs Harrogate Theatre is the only option being examined by the authority.
'Unanimous' decision
The Royal Hall only hosted 57 events last year but the theatre board said it would host at least 200 professional events in 2012.
It also wants to guarantee 30 nights a year for local community groups to use the building at a reduced rate of around £1,600 per night.
Councillor Jim Clark, chair of the theatre's board, said: "I am very pleased that the cabinet has decided unanimously to move forward with negotiations."
He added they would work with Royal Hall users and community groups to get a full programme in place for next year.
A final decision is expected to be made by the council in November 2011.