Protester Mark Snow determined to stay in Yorkshire tree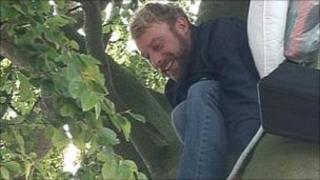 A protester who has spent a third night in a tree has no intention of coming down within the next few days.
Mark Snow is occupying the 100-year-old beech tree near Scarborough, North Yorkshire, after it was faced with the chop on Tuesday.
North Yorkshire County Council is seeking an injunction to remove the protester from the tree.
Mr Snow said earlier on Friday: "I don't feel like I need to come down today or tomorrow or over the weekend.
"There might be a bit of ground frost on Monday but that doesn't bother me too much because I've got hot water bottles and clothes."
The council was given a court order to fell the tree in Irton after a request was made in 2006 by a resident claiming the roots were damaging the drains and a high boundary wall of a nearby property.
The five-year battle has cost the authority an estimated £225,000 in legal fees.
Contractors were due to remove the tree on Tuesday morning when Mr Snow, a joiner from Scarborough, climbed up it.
He has spent three nights camped in the tree and some residents have been sending food and drink up using a rope and carrier bag.