Plaque to mark Wainwright journey at Settle station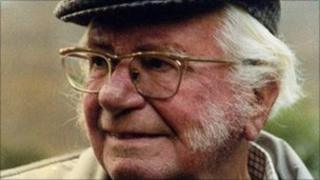 A Blue Plaque commemorating the start of a 200-mile walk by the author Alfred Wainwright is to be unveiled at a North Yorkshire railway station.
Wainwright, whose walking guide books became synonymous with the Lakeland fells, undertook a marathon walk of 211 miles from Settle station in 1938.
Known as his "Pennine journey" Wainwright walked from the station to Hadrian's Wall and back.
The plaque and an information board about the walk will be unveiled.
In September 1938, Wainwright left Settle on a walk he had planned for some time.
The ceremony to unveil the plaque has been timed to coincide with the 73rd anniversary of the start of Wainwright's epic walk.