Protester Mark Snow climbs down from tree but is replaced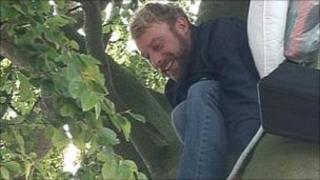 A protester who spent four nights in a tree facing the axe has come down.
Mark Snow occupied the 100-year-old beech tree near Scarborough, North Yorkshire, after it was faced with the chop on Tuesday.
North Yorkshire County Council sought an injunction to remove him, but another man, Charles Ledger, has now taken his place.
A five-year battle over the tree is believed to have cost an estimated £225,000 in legal fees.
The council was given a court order to fell the tree in Irton after a request was made in 2006 by a resident claiming the roots were damaging the drains and a high boundary wall of a nearby property.
Contractors were due to remove the tree on Tuesday but Mr Snow, a joiner from Scarborough, climbed into the branches.
He spent four nights camped in the tree with some local residents sending up food and drink using a rope and carrier bag.
Mr Snow said he believed his stay in the tree had been worth it.
"The tree is still there. It wouldn't have been if this hadn't had started. It's got a lot more of a chance now," he said.
Mr Ledger said he was inspired by Mr Snow's stand and by the support of the community.
The 41-year-old graphic designer from Scarborough, said: "I was reading about it in the local paper and I never thought I would find myself up here.
"I'm not from any corporate organisation or charity, I just thought it is time to make a stand and highlight some of the issues surrounding tree preservation orders and mature trees.
"This tree clearly means a lot to the villagers and I have been really impressed with the support and help I have received."