Dean of York, Keith Jones to retire next year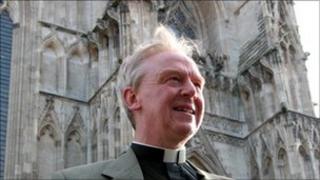 The Dean of York, The Very Reverend Keith Jones has announced that he will retire in April next year.
Reverend Jones, who was born in Shrewsbury, became Dean of Exeter in 1995 before taking on his current role at York Minster in 2004.
The Archbishop of York, Dr John Sentamu thanked Reverend Jones for his eight years of service to the people of York and the Church of England.
Reverend Jones said his time in York has been a "privilege".
During his time in York he has led the 'York Minster Revealed' project which saw major parts of the east window restored and visited the relics of St Therese of Lisieux in 2009.
Reverend Jones said: "These have been exciting, inspiring, endlessly varied years.
"But what a place to work in! A marvellous city, in a hugely diverse region, and one of the loveliest buildings in the world to care for.
"To contribute to York Minster's life will have been a great privilege and we shall always give thanks for that."
Reverend Jones will retire aged 67 on 30 April 2012.