Irton tree: High Court grants injunction to allow felling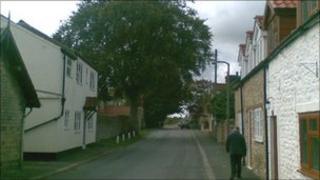 An injunction has been granted to allow the felling of a tree in North Yorkshire which has been the subject of a five-year battle to save it.
The wrangle over the beech in Irton is thought to have cost the county council an estimated £225,000 in legal fees.
The initial request to fell it was made in 2006 by a resident claiming the tree was damaging a boundary wall and drain.
Villagers objected to the removal of the tree and two people later climbed and occupied it in protest.
The terms of the High Court injunction state that no action can be taken by the county council to remove the tree until 30 September.
Preservation order
Following objections from villagers over the felling, Scarborough Borough Council put a tree preservation order on the beech.
A legal battle followed and a judge ordered the tree to be felled.
Contractors were due to remove the tree on Tuesday but Mr Snow, a joiner from Scarborough, climbed into its branches, preventing its removal.
He spent four nights camped in the tree before Charles Ledger, also from Scarborough, took his place.
There had been claims that bats roosted in the tree, but a survey concluded the tree was not a bat roost.