Irton tree: Third protester takes up sit-in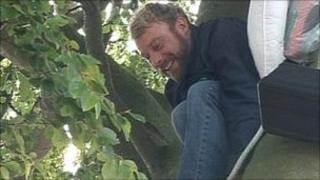 A third man has climbed up a tree in North Yorkshire and occupied it as part of a five-year battle to save it.
Mark Snow occupied the 100-year-old beech tree in Scarborough from 20 September for four days and was then replaced by campaigner Charles Ledger.
Paul Ganton has now taken up the latest sit-in as part of the five-year wrangle, thought to have cost the county council £225,000 in legal fees.
An injunction has been granted to allow the felling of the tree on Friday.
North Yorkshire County Council was given a court order to fell the tree in Irton after a request was made in 2006 by a resident claiming the roots were damaging the drains and a high boundary wall of a nearby property.
Following objections from villagers over the felling, Scarborough Borough Council put a tree preservation order on the beech.
Contractors were due to remove the tree last Tuesday but Mr Snow, a joiner from Scarborough, climbed into its branches, preventing its removal.
He spent four nights camped in the tree before Charles Ledger, also from Scarborough, took his place.
Mr Ganton, who took up occupation earlier, said: "I shall be here as long as it takes, as long as I need to be."
John Whale, Conservative leader of the county council, admitted the authority had spent "far too much money" on the tree.
He added: "The people who are sitting up this tree now are costing the public sector of North Yorkshire, including the police, a vast amount of money.
"The county council do not have a particular view on this. They are in the middle between the objectors and the local resident."