Irton tree: Fourth protester stages sit-in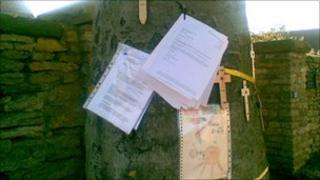 A fourth protester has climbed up a tree in a North Yorkshire village as part of an on-going campaign to prevent it being felled.
Rob Simpson is alone in the tree in Irton - at the centre of a five-year wrangle thought to have cost North Yorkshire County Council £225,000.
On Wednesday, the council nailed a 100-page statement to the beech tree explaining why it had to be cut down.
Following an injunction the tree is due to be felled on Friday.
Preservation order
North Yorkshire County Council originally obtained a court order to fell the tree after a request was made in 2006 by a resident claiming the roots were damaging the drains and a high boundary wall of a nearby property.
But Mr Simpson, a musician from Scarborough, said: "The needs of the villagers are greater than the needs of a single householder."
His protest follows three other sit-ins by campaigners since 20 September who have occupied the 100-year-old tree.
Contractors were due to remove the tree on that date but Mark Snow, a joiner from Scarborough, was the first protester to climb into its branches, preventing its removal.
Mr Snow stayed up the tree for four nights before being replaced by Charles Ledger and, on Wednesday, by Paul Ganton.