Irton tree: Court order contempt threat to protesters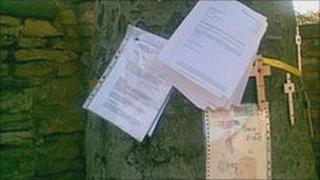 An injunction is due to come into force later forcing protesters to climb down from a 100-year-old beech tree which is due to be felled.
Four protesters have sat in the tree in Irton since 20 September, occupying it one at a time.
A High Court order states anyone in the tree after 16:00 BST will be in contempt of court.
The five-year wrangle over the tree is thought to have cost North Yorkshire County Council £225,000.
On Wednesday, the council nailed a 100-page statement to the beech tree explaining why it had to be cut down.
The authority originally obtained a court order to fell the tree after a request was made in 2006 by a resident claiming the roots were damaging the drains and a high boundary wall of a nearby property.
'Pay a few pence'
The current occupant of the tree is Scarborough musician Rob Simpson, who previously called himself Ed Edmunds.
Contractors were due to fell the tree on 20 September but Mark Snow, a joiner from Scarborough, was the first protester to climb into its branches, preventing its removal.
Mr Snow stayed up the tree for four nights before being replaced by Charles Ledger and, on Wednesday, by Paul Ganton.
When he climbed the tree, Mr Snow said: "There is a lot of support in Irton for this tree.
"I'm just going to stay up here because I think most of the people in the county would quite happily pay a few pence each to keep this tree.
"There's only one household in the entire county that wants to fell this tree."