Irton tree protesters take court action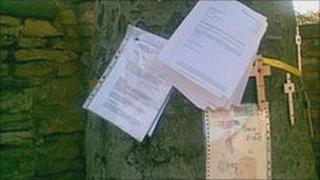 Protesters trying to prevent a 100-year-old beech tree from being felled in Yorkshire are taking their fight to court.
They claim North Yorkshire County Council must give eight weeks' notice in order to close the road to chop down the tree at Irton near Scarborough.
If successful at Leeds County Court on Friday, the demonstrators will gain a stay of execution for the tree.
The council is removing the tree because the roots have damaged a drain.
A number of protesters have climbed the tree over the past week to prevent the council from cutting it down.
The county council was granted an injunction by the High Court on Tuesday and anyone still occupying the tree after 16:00 BST on Friday could be held in contempt of court.
Road closures usually require a notice period of eight weeks, which has not been given in Irton.
'Stay of execution'
Emergency road closures are usually only used when an unexpected event, such as subsidence, poses a risk.
Protesters hope the court will agree felling the tree is not an emergency.
Campaigner David Parker said: "It would mean a stay of execution for Irton's beech tree and a few more weeks' time for its supporters to make sure its case is properly heard."
The authority originally obtained a court order to fell the tree after a request was made in 2006 by a resident claiming the roots were damaging the drains and a high boundary wall of a nearby property.
The resulting legal battle has cost more than £225,000.