Irton tree protesters fail to win a reprieve in court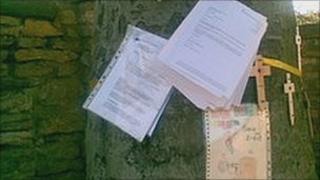 Protesters trying to save a 100-year-old beech tree in Yorkshire have failed in their bid to prevent it being cut down.
In order to fell the tree North Yorkshire County Council needs to close the road at Irton near Scarborough.
Protesters asked Leeds County Court to order the council to give the usual eight weeks' notice of the closure but the court rejected the application.
A number of people have climbed the tree to prevent it being felled.
An existing High Court injunction, granted on Tuesday, permits the council to remove anyone in the tree after a 16:00 BST deadline on Friday.
The county council originally obtained a court order to fell the tree after a request was made in 2006 by a resident claiming the roots were damaging the drains and a high boundary wall of a nearby property.
The resulting five-year-long legal battle has cost more than £225,000.