Flying Scotsman's return delayed due to 'defects'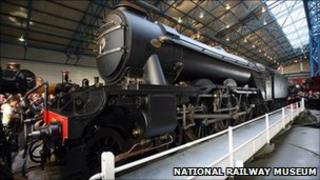 The return to the rails of the Flying Scotsman has been further delayed by a year because of restoration problems.
Work was pushed back in 2010 and the steam locomotive was predicted to be back in use this summer.
Railway bosses said restoration was now due to be completed by late spring 2012 "due to the discovery of a number of additional defects".
The National Rail Museum (NRM) in York bought the locomotive in 2004 and started an appeal for its restoration.
Remedial work is being carried out in Bury, Greater Manchester, and is "focusing on ensuring that the locomotive is in a condition to be able to run for decades to come", the museum said.
The work due to take place includes machining of the axle boxes and the repair and installation of the horn guides.
'Unforeseen issues'
Steve Davies, director of NRM, said: "The Flying Scotsman restoration is one of the most complex steam locomotive engineering projects of its kind ever undertaken in Britain and there is no doubt that it has been challenging.
"There have been a number of points where unforeseen issues have arisen that have caused the project to be delayed whilst options were considered and decisions were made.
"These decisions were taken in accordance with our aims of ultimately maintaining maximum public exposure and enjoyment of the locomotive."
The class A3 Pacific locomotive was built in 1923 for the London and North Eastern Railway (LNER), at Doncaster.
In its career it travelled 2,000,000 miles (3,200,000 km) before being withdrawn from service in 1963.