Kellingley pit death miner 'well respected'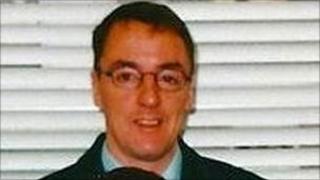 The family of a 49-year-old miner who was killed in an accident at a North Yorkshire pit have said they have been devastated by his death.
The widow and two sons of Gerry Gibson thanked rescue teams for their efforts at Kellingley colliery on Tuesday.
They said Mr Gibson was "well respected" in Sherburn-in-Elmet and the family's former home in Lanarkshire.
His widow, Brenda, and sons Sean and Andrew said reactions to his death were a testament to his character.
An investigation is being carried out into the incident by police and the Health and Safety Executive.
'Tireless efforts'
The family statement said: "We are all truly devastated by Gerry's sudden and tragic death.
"We would like to pay tribute to everyone involved in the attempts to rescue Gerry - all his work colleagues, Kellingley rescue team, the air ambulance team, Yorkshire Ambulance and all other medics who were on site.
"Their tireless efforts were not in vain, resulting in the successful rescue of the other trapped miner, and everyone involved should take pride and comfort from that outcome.
"That's what Gerry would have wanted.
"Gerry, a dedicated miner for 32 years, was very proud of his Scottish roots.
"Although residing in Sherburn-in-Elmet, North Yorkshire, since 1989 with his wife Brenda and their two boys, Sean and Andrew, he returned regularly to Scotland to visit his much loved family and friends in his former hometown of Shotts, and to share his passion of following Celtic FC.
"He was regarded as a significant and well known character in both communities, and the kind words of sympathy and support we have received in reaction to Gerry's death, from both north and south of the border, are testament to that.
"He will be sorely missed."