Pit death inquest: Gerry Gibson died from asphyxiation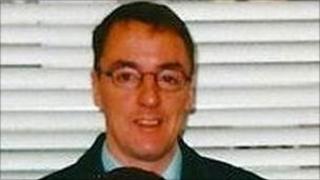 A miner who was buried in a roof collapse at a Yorkshire pit, died from asphyxiation, an inquest has heard.
Gerry Gibson, 49, died at Kellingley colliery in North Yorkshire on 27 September.
The coroner heard early investigations revealed the cause was a failure in the roof support system.
The report on the collapse could take six months and the inquest was adjourned. Mr Gibson's death is the third in three years at Kellingley.
John Whyatt, a mine inspector, told Selby Magistrates' Court he began his investigations at the mine after being told that two men had been "buried".
He said: "It is clear from my initial overview there had been a failure of the support system."
Investigation focus
The inspector said equipment from the mine had now been sent away for analysis.
He said the investigation would focus on understanding what had happened and how it could be prevented from happening again.
Mr Gibson's wife, Brenda, attended the inquest with her son, Sean, and other members of her husband's family.
Mrs Gibson was asked by North Yorkshire Coroner, Rob Turnbull, if she had any questions.
She said: "The main thing is just to make sure it doesn't happen again."
Mr Gibson and a colleague, Phil Sheldon, were trapped after the roof collapsed 2,600 ft (800m) underground on 27 September.
Mr Sheldon, who suffered minor injuries, was rescued but his colleague was pronounced dead at the scene.
Opening and adjourning the inquest until a later date, Mr Turnbull said: "The conclusion from the examination of Mr Gibson's body was the cause of death was given as mechanical asphyxia due to the collapse of the mine roof."
Miner Ian Cameron, 46, died when equipment fell on him at the pit in October 2009 and Don Cook was killed in a rock fall in September 2008.