Big wheel planned for York hotel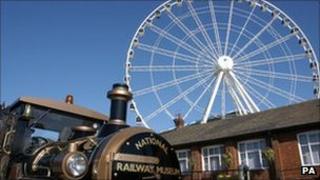 Fresh plans have been drawn up for a 53m (174 ft) high wheel in York.
Tourism company Great City Attractions Global (GCAG) wants to erect the wheel in the gardens of the Royal York Hotel, near to the city's railway station.
The wheel would be the same design as the one at the National Railway Museum, which attracted 1.2m visitors between 2006 and 2008, when it was dismantled.
John Lowery, GCAG's UK operations manager, said a planning application had been submitted to York council.
He said: "If the application is successful, this would be a world-first for York as we believe that this may be the first time anywhere in the world a hotel has hosted a wheel.
"We are hopeful that a new wheel in York - if the application is successful - will allow York residents to see their magnificent city from an exciting new perspective and provide another reason for visitors to come to York."
Several attempts to replace the railway museum wheel at sites including North Street Gardens and behind York Art Gallery have been abandoned following varying objections.
Councillor Sonja Crisp, the council's cabinet member for leisure, culture and social inclusion, said: "We would love to see the wheel come back to York.
"This is not a council application or a council scheme, but we will work positively with the operators of the wheel in every way we can, if is should get through the planning process."