Gavin Sartain jailed for Huddersfield girlfriend murder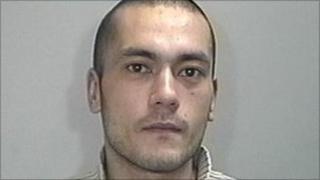 A man has been jailed for life for the murder of his girlfriend at their West Yorkshire home.
Gavin Sartain stabbed Michelle Suttle to death at the house on Baker Street, Huddersfield, in June.
Sartain, 31, admitted murder at Bradford Crown Court and was told he would serve a minimum of 12 years.
The Crown Prosecution Service (CPS) said Miss Suttle's life was "cut brutally short, in the environment where she should have felt safest".
Julian Briggs, from the CPS, added: "Michelle Suttle lost her life following a vicious assault by her boyfriend in the home they shared together.
"Our thoughts are with Michelle's family and friends at this terrible time.
"Although nothing we can say will begin to assuage their grief, we hope that the defendant's plea of guilty and his sentencing at court today will begin to bring some closure and comfort to them."
Det Supt Sukhbir Singh, of West Yorkshire Police, said Sartain "murdered Michelle Suttle in a violent attack, stabbing her repeatedly".
The detective added: "He did at least do the right thing by pleading guilty to Michelle's murder, therefore sparing the Suttle family the distress and anxiety of a full trial.
"He will now have ample time to reflect on what he has done."