Irton tree: argument over legal costs to go to court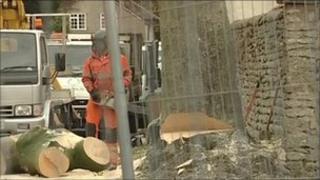 A five-year legal row over the felling of a 100-year-old beech tree at Irton near Scarborough is to continue, despite the tree being cut down.
North Yorkshire County Council wants Scarborough Borough Council to pay towards of the legal costs of the case, which are thought to be about £225,000.
It says the borough council made the case more expensive by placing a preservation order on the tree in 2007.
Scarborough council said it would fight any claim for costs.
A court hearing is expected to begin in December.
The county council first applied to have the beech tree felled in 2007.
Local resident Gerald Hazelwood had claimed it was damaging his drains and a boundary wall.
The Conservative-controlled county council, as the authority responsible for the highway at Irton, was advised to fell it.
Protesters in tree
Following local protests, Scarborough Borough Council placed the preservation order on the tree in 2007.
The situation was not resolved until a judge ordered the county council to remove the tree in August this year.
Protesters then climbed the tree and the authority was forced to seek a High Court injunction to remove them.
The county council believe the preservation order increased costs significantly.
Scarborough Borough Council's Conservative leader, Tom Fox, said the council believed it had acted appropriately throughout and would resist any claim for costs.