Woman 'had no hesitation reporting child images husband'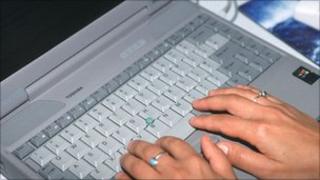 A woman who reported her husband for possessing indecent images of children has said she "did not hesitate" in calling the police.
Jacqueline Burke, from York, went on to give evidence against her husband in court.
Mrs Burke said she felt "sick" at what her husband had done.
Jonathan Burke, 39, was convicted of possessing and making indecent photographs of children at York Crown Court in August.
Mrs Burke accidentally discovered the images when she clicked on her husband's laptop while he was out.
She said: "There were young children in explicit poses, I was in shock. I closed the computer down and I was just in a daze.
"I didn't hesitate, I just picked up the phone and called the police.
"It was like a nightmare. I thought 'this can't be happening to me'."
'Broke down'
Her husband denied he was responsible for the images and while police investigated he remained living at the couple's home.
Mrs Burke said: "I had to live with this man until the police had the evidence. After he was charged, CID came knocking on my door and the officer just said 'it is him'.
"I just broke down and said I don't want that man coming back to the house. I never saw him again until I gave evidence in court."
It was two-and-a-half years before the case came to court in August.
Burke denied 13 charges of possessing and making indecent photographs of children committed between January and August 2008.
He was convicted and was given a community order with three years' supervision by the probation service, including a sex offenders treatment programme.
Burke was also put on the sex offenders' register for five years and made subject to a five-year sexual offences prevention order.
Mrs Burke urged other people with suspicions about a partner to do the same as she did.
She said: "If you have any doubts, if something is not right, phone the police. Do what I did. These people need to be stopped."