Fire destroys Valley Gardens play area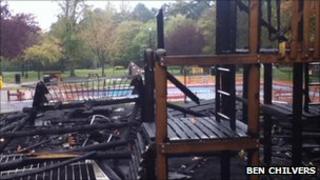 A police investigation has started into the cause of a blaze that destroyed a children's play park in North Yorkshire.
Fire crews were called to the Valley Gardens park in Harrogate in the early hours of Saturday.
A 100sq m wooden play fort was engulfed in flames and eventually completely burned out.
Police said the cause of the fire, shortly before 03:00 BST, was unknown at the moment.